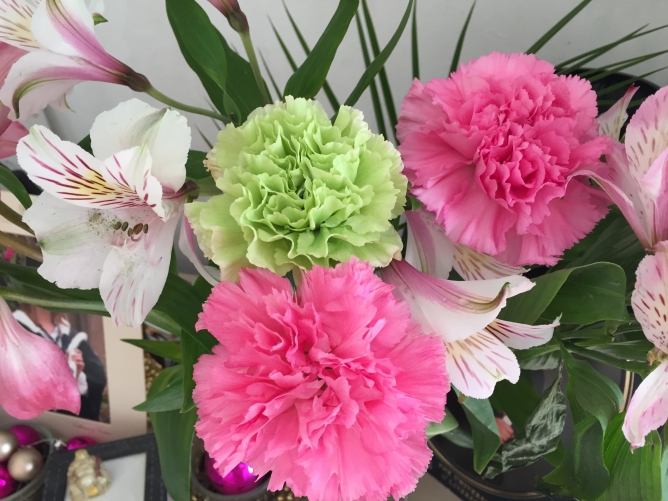 Last week at my Simply Sisterhood meeting I was given the bouquet to take home. It has opened up things for me that I hadn't dreamt of. At first I was just appreciating how beautiful they looked - carnations, Alstromeria or Peruvian lilies and larger pink unscented lilies. I was fascinated by the green carnation in particulare and remembered that it was associated with Oscar Wilde. So onto Google.
It turns out that a green carnation was a symbol for Ireland particualrly for St. Patrick's Day. They aren't always dyed but are a variety that can be grown. Then I noticed that there is an Oxfore University tradition, that apparently originated as recently as the 1990's, of wearing carnations. For the first exam it is white, then for most of the exams it is pink, until the final exam when a red carnation is worn. The legend is that if you start with a white one and keep it in a red inkwell over the course of the exams it will gradually turn red.
This shocked and surprised me. Why? Because my daughter went to Oxford in 2004-8 and she hadn't mentioned this. I'm very proud that both my children are very independent and like me, although they wouldn't call it this, they too are following their bliss. But this hit me that I can miss out on a detail like this in their lives. I wanted to make sure that I wasn't a mum who needed to have every detail of their lives related to them - but this made me feel I want to be closer and more connected. I messaged them and my son, who is in Singapore was the first to respond. He rang me and said he remembered the carnations in Oxford because he went their to stay with his sister and celebrate with her.
This started another conversation because my grandfather, a miner, had an allotment so big it was more of a smallholding with hens and huge greenhouses for his tomatoes and he grew prize winning leeks. His leeks even won first prize in the News of the World Leek Competition. He also grew pink, carnations and would sport one in his buttonhole, wrapped carefully in damp cotton wool and silver paper to keep it fresh.
I'd like to thank my friend Louise for this bouquet that has connected me in more ways than I could have imagined helping me open up a new way of communicating. No wonder they say 'Say it with flowers!'