For the past 2 years I have focussed on creating Rampages of Appreciation around my life. I have mainly done this in my journals and secret Facebook groups. In 2018 as my online show Following Your Bliss goes weekly Jacqueline Best, who hosts the show from Prince Edward Island in Canada, suggested I write a blog around the shows' themes. So here we are for my first website Rampage of Appreciation which is starts around the topic 'It's All About the Timing!'
To me time is multi-layered, multi-dimensional, and I appreciate that I have learnt to play with time, to stretch it to suit me so now instead of working to deadlines I create lifelines of fun time. These take me to a place where work becomes effortless.
I love working from a place of joy. I also love when I notice that I may be struggling with a task that I can become mistress of my task! When I feel 'effort' I can change it - sometimes with a change of perspective mentally or physically. My favourite way is to walk by the sea.
When I lived in the town in my last year there I was going to the beach three or four times a week. Now I live in the north east of England on the North Sea. With this climate it isn't often that I can lie on the beach in the sun! However I have found some brilliant cafes and restaurants where even on the windiest, rainiest, chilliest days I can enoy the sea while sipping a hot drink! I love walking along the beach too and this helped me manifest my first home by the sea - I put out the thought that the spot where I was standing with the sea on one hand and an old windmill on the other would be a great place to live. I didn't think of it as a place for myself, just that generally it would be a great place to live. Within four months I found I was living there with a view of the windmill from my bedroom!
I love that I had to moved from there last February and now have a home of my own with a view of the harbour and the sea. I love that when my friend had to move she moved to round the corner from me! How does it get even better than this?
I love opening up to possibilities and seeing how the Universe delivers things far better than I even imagined!!!
So this year my vision board has focussed on how I want to FEEL!!!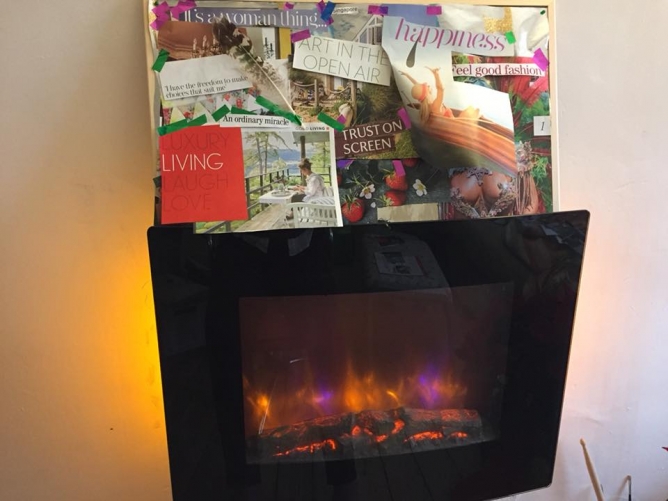 I've even placed it above my flickering image fireplace to 'fuel' my vision! I had intended it for my bedroom but for the moment this feels the right place for it.
My favourite vision board words in no particular order:
LUXURY, LIVING, LAUGH, LOVE
I love the feeling of being ALIVE and LIVING life.
Also: I HAVE THE FREEDON TO MAKE CHOICES THAT SUIT ME.
HAPPINESS
FEEL GOOD FASHION - I love that I decluttered my underwear drawer of all uncomfortable undies and have bought FEEL GOOD underwear!
GOOD LIVING
AN ORDINARY MIRACLE - I've combined these last two phrases for that is what I have found. This time last year I was renting a room yet my FEELING was THIS IS MY PLACE and when I had to leave I manifested an ordinary miracle of a one bedroom bungalow with a private south facing front garden and a beautiful huge communal garden and allotment at the back!
I also removed a phrase 'ripe for the picking' from an image of strawberries as each time I looked at it the words felt abusive. For more discussion on this Jacqueline and I talk in more depth on the link I will post here. It feels so good to only use the words and images that FEEL GOOD FOR ME! I love the variety and freedom of choice I have. So have a HAPPY NEW YEAR and HAPPY VISIONING for 2018. https://youtu.be/mNDaMGtF4_g